Overview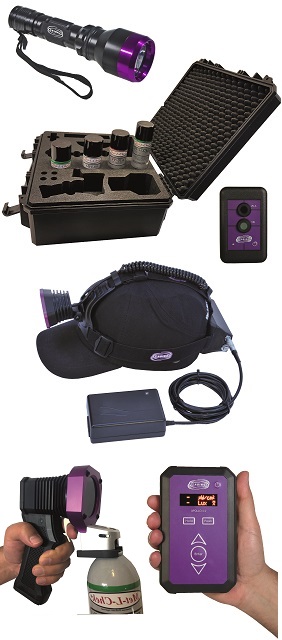 The Stockholm kit (PN: K001) includes 3 UV LED lights and 1 UV and White Light meter along with all charging accessories and a carrying case. It also has 4 pockets that fit any Aerosol brand. This kit fulfills all requirements for field inspections. The 3 UV LED lights consist of a handheld UV LED light with an aerosol spray can holder attached, a UV LED headlight and a UV LED flashlight.
Even though the Stockholm kit includes MB 3.0 Zeus with Athena, UVG3 2.0 Midlight and a UVG5 2.0 Midlight, the kit is customizable and you may replace any light within the same series. For example, if you work for Rolls-Royce you may want to replace UVG3 2.0 Midlight with UVG3 2.0 Floodlight.
Members of the US military should ask for PN: K002 as it has been customized to meet USAF requirements. This kit includes MB 3.0 Atlas with Athena (PN: L126), UVG3 2.0 Midlight (PN: L135), UVG5 2.0 Midlight (PN: L129) and Apollo 3.0 (PN: M513). 
The Stockholm kit (PN: K001) is a customizable kit to fulfill any field inspection, with any UV light certifications your client requires you to use. It fulfills your preferred and most convenient way to contact an inspection. Let it be a yoke inspection that helps you use aerosols and UV LED light with one hand, a quick inspection with a UV LED flashlight or a UV LED headlight where no hands are needed to operate. You have everything you need in a Single kit.
Three additional KITs are available, Gothenburg (PN: K003), Malmo (PN: K004) and Uppsala (PN: K005), if not all four units are required. More information is provided in the Inspector KIT flyer below.
Download product information